PHILADELPHIA — In a makeshift tent behind a soccer goal and close enough to a taco stand that the smell of grilling barbacoa and carnitas drifts over, Melissa Pluguez cheerfully asks a man, in Spanish, if he's right- or left-handed.
The man, wearing jeans and a red T-shirt with white letters that spell Abercrombie, answers right, and confesses he's a bit afraid of needles. Even so, he's been eager to get a COVID-19 vaccine, Pluguez translates, but hasn't felt comfortable going to vaccination sites around Philadelphia. But when he heard about this vaccination event — staffed by local, Spanish-speaking medical professionals and held at his church congregation's regular Sunday gathering — he felt ready.
Pluguez is a nurse practitioner for critical care at Cooper University Health Care in Camden, N.J., and co-medical director of Unidos Contra COVID, the small group that organized this vaccine outreach event. She tells the man that the fear is worse than the needle, and he nods and looks away as she injects the Pfizer vaccine into his left arm. Afterward, he smiles, and the two bump elbows before the man leaves to pick up his vaccination card. 
There's no free beer in sight, nor is anyone getting complimentary tickets to Phillies baseball games. Instead, roughly 300 people are clustered around soccer fields that border the church parking lot. The main event is a tournament, where professional-looking players in uniform square off as spectators cheer. On adjacent fields, children kick balls around or chase each other through the lines of people waiting to buy tacos or mango slices stuffed into plastic cups. Couples dance to upbeat music emanating from loudspeakers set up near Unidos Contra COVID's tent. Inside, behind dark mesh netting partitions set up for privacy amid all that action, vaccines are being delivered into arm after arm.
In the end, this sort of targeted approach may be a more impactful way than the flashier, broader efforts, like beer giveaways and large cash prizes, to reach the roughly 35 percent of adults in the United States who haven't yet gotten at least one COVID-19 vaccine dose. Such a hyperlocal focus, experts say, can address the idiosyncratic and complex array of reasons that people aren't getting vaccinated, especially in often overlooked and underserved communities that have experienced higher rates of COVID-19 and relatively low numbers of vaccinations (SN: 5/3/21).
Like in other parts of the country, Hispanic communities in Philadelphia have been especially impacted by COVID-19. Throughout the pandemic, hospitalization rates for Hispanic people in the city who are 35 and older have been higher than for any other group, as have death rates for those 75 and older. And vaccinations have lagged; only 37 percent of the Hispanic population has received one dose, compared with 51 percent of white residents as of June 14.
A group of local doctors and nursed formed Unidos Contra COVID, which means United Against COVID, earlier this year to address these disparities. The Hispanic population in Philadelphia is diverse, and "our experiences and makeup is hardly monolithic," says José Torradas, an emergency room physician and co-medical director of Unidos Contra COVID, who left his job earlier this year to focus on outreach full-time. People in this community aren't getting the vaccine "for different reasons in different groups."
Figuring out those reasons has become crucial to Unidos Contra COVID's mission. The group has found that for Central American and Mexican communities in parts of Philadelphia, access has been the biggest problem. Meanwhile, in the predominantly Puerto Rican and Dominican communities of northern Philadelphia, Torradas says, vaccine skepticism stems from misinformation and a general distrust of the government.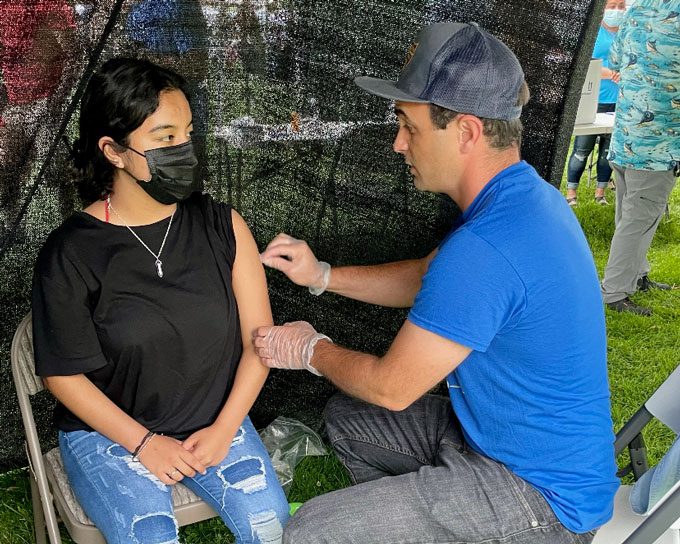 Barriers to access
At the church event, Unidos Contra COVID came to bring vaccines to people who won't travel to unfamiliar places to get them, because of language barriers or for fear of deportation. Many of the people gathered around the soccer fields are undocumented, Torradas says, though his group never asks about immigration status.
These Sunday gatherings represent the few hours each week that these communities come together, he says, often after church. "It's a sanctuary, a place they feel safe." For that reason, organizers asked that the church not be named.
The rest of the week, it's either work or home for many undocumented people. "Anything outside of that routine represents a risk," Torradas says. Even though local pharmacies may be close, or federal distribution sites accessible by bus, fears of interacting with government services or law enforcement keep many from getting vaccinated, he says. By law, undocumented immigrants are eligible to receive COVID-19 vaccines.
"There's lots of desire [here] for the vaccine," Torradas says. "They just don't want to get deported."
A Kaiser Family Foundation poll in May found that Hispanics who have yet to receive a COVID-19 vaccine are about twice as likely as non-Hispanic whites or Blacks to say they'd like to get vaccinated as soon as possible.
Hispanic adults expressed a desire to get the COVID-19 vaccine "as soon as possible" at much higher rates than Black or white adults, according to a telephone survey of 2,097 adults conducted April 15 to April 29 by the Kaiser Family Foundation.